Light, airy and incredibly stylish, Plantation Shutters are the ideal choice when it comes to adding a practical and effective solution to your bathroom privacy. Catering for all your shutter needs, from timber to aluminium to security, Plantation Shutters are custom-designed to suit your individual requirements, offering a beautiful, elegant and sophisticated solution to control light and airflow, effortlessly.
Here are five reasons why we love Plantation Shutters in a bathroom:
1. Shutters are easy to open and close, simply by tilting the louvres to allow air and light in or angling the louvres to create privacy.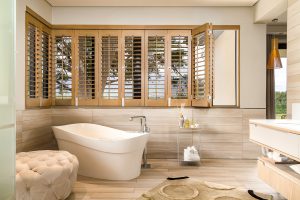 2. Shutters can be retrofitted – they can be fitted at a later stage after a renovation, when energy and budget allow.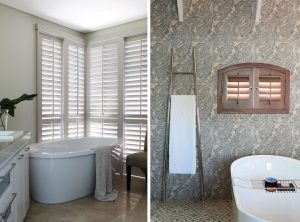 3. If a bathroom window or door is open for air flow or ventilation, then the shutters do not rattle or flap in the breeze. If Security Shutters are installed, then one can leave the bathroom window open at all times (for ventilation) without having to worry about security risks.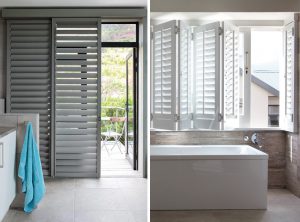 4. The louvres can be split allowing the top louvres to be opened for light and air, while the bottom louvres stay closed for privacy.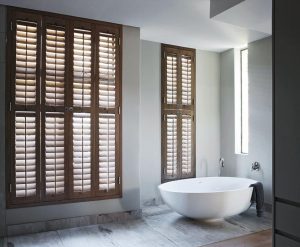 5. Windows in showers are becoming increasingly popular, however privacy was always an issue. Enter Plantation Shutters which can be installed in your shower to allow privacy, and won't warp or perish with the constant spray of water. Say goodbye to frosted or sandblasted glass and hello to beautiful, modern and convenient Plantation Shutters. Windows in showers are an increasingly popular trend in modern homes.